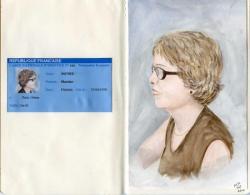 Mon thème: "Your name here"
Je me suis fait une "fausse" carte d'identité (:oD) et me suis lancée dans l'auto-portrait ! Je n'ai pas le talent de Raena !
Après deux essais où je me suis retrouvée avec le portrait d'une "inconnue" avec un gros nez, des yeux trop grands ou trop petits -et pas au même niveau- quelqu'un, au final, que mon époux ne reconnaissait même pas (très dangereux !!) j'ai pris pour modèle une photo de moi toute récente, de profil et avec des lunettes de soleil ! Cette petite aquarelle rentre tout juste dans le carnet Moleskine ! Ouf !!
My theme: "Your name here"
I changed a bit my real National Identity Card ( :oD )and tried myself at a self portrait...!
I wish I had Raena' talent !!!
After two attempts, looking at myself in a mirror and ending with a big nose, big (or too small ) eyes that weren't even level and the picture of "someone" my husband didn't even recognise (very dangerous!!) I finally opted for a very recent photo where I stand sideways and wear sunglasses to be used as a model for this small watercolour . It fits nicely in the provided Moleskine sketchbook !! Phewww!!!!!